It's getting warmer here in Mattapoisett, not warm enough walk on the beach in the evening without a jacket, but warmer nonetheless. Tonight I walked down to Brandt Island Cove with Jazz and took a couple snapshots of the things I've been coming across on our walks lately.
First, for the last couple weeks there have been at least two American Oyster Catcher (also here) birds on our small stretch of beach. They don't let you get very close to them and I don't have a great zoom lens, but they're a distinctive breed: the large orange beak makes it stand out from every bird I've seen on our walks and it seems to prefer hopping to flying (it hops until Jazz spots it and chases it away). I'm only a novice birdwatcher, but apparently there are only about 7,500 of these birds left in North America, so I guess it's a privilege. Here's a quick snapshot I got of one of them: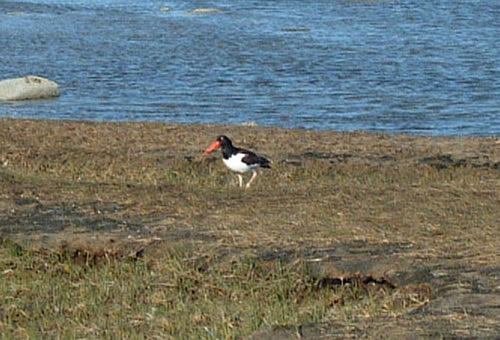 Second, Jazz pulled either an Atlantic Stingray (Dasyatus sabina) or a skate (Raja eglanteria) out of the water yesterday, luckily she didn't try to chew it up like she does everything else she finds on the shore.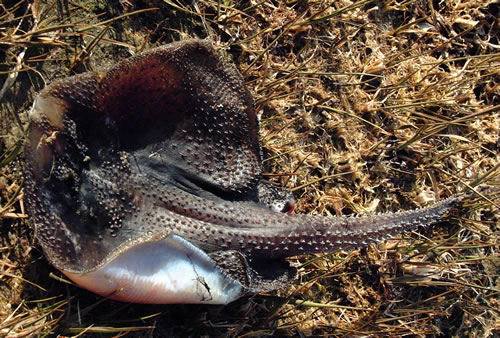 Finally, the sun was shining brilliantly on the water and I'm still no good at taking pictures, but maybe someone in a landlocked state will appreciate the view of the ocean: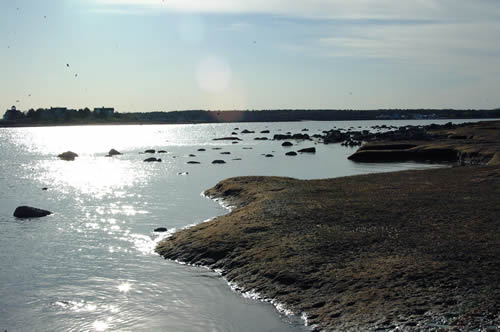 and of this amazing tree that reminds me of a something you'd see under an electron microscope: